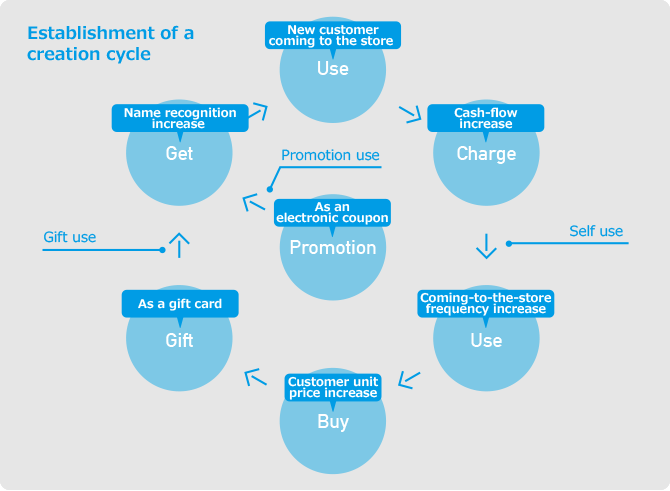 For Your Business

Closed-System Electronic Money Prepaid Card
You can offer rechargeable, prepaid cards to your customers as e-money and redeemable only at your stores.

We Have Solutions for You!
"I want to increase customer's repeated business by offering private-label electronic money."
"I want a way to accept payments for my online shop."
"We want to introduce e-money that can be shared between our local merchant community."
Service Target

Customers can use cards repeatedly and earn points every time they shop at their favorite stores or online.
For Gifts

Gift Cards
You can offer modern and more sophisticated gift service by replacing outdated paper gift certificates with electronic plastic cards.
You can also significantly reduce the administration needed to manage cash balances.

We Have Solutions for You!
"I want to boost demand for gift purchases to win new customers."
"I already issue paper gift certificates, but managing them is tedious."
Service Target

You can offer a sophisticated way to exchange money by giving and receiving gift cards for seasonal occasions, presents, and promotional events.
For Promotions

Coupons and Point Cards
You can leverage a variety of promotional tools like coupons and giveaways to encourage customer visits.

We Have Solutions for You!
"I want to have a storefront promotional event to attract customers quickly."
"I want to prepare giveaways for newly opened stores or promotional events to improve repeat customer business.
Service Target

You can use as giveaways and point cards for your company or shop.