A Sales Promotion Platform Where One System Can Issue and Manage E-Money, Gift Cards, and Point Cards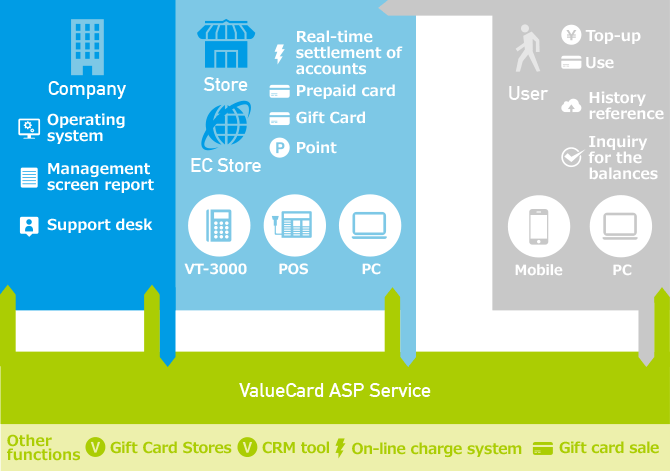 Valuecard ASP Service

Valuecard ASP Service
Valuecard ASP service is a system to issue and manage e-money, gift cards, and point cards.
Our ASP service allows you to use a highly secured, online and real-time Valuecard Control Center at an affordable cost.

Transaction Processing Feature
This feature allows you to access our dedicated servers through network, process Top Ups and payment (usage) operations, and update real-time balances.
The processing speed between the terminal and server is typically less than 2 seconds.
Administrative Feature for Head Office
Web-based Administrative Console is provided for easy administrative control from the comfort of your head office.
・ Card Information Reference Feature: Search and browse the deposit and payment transactions of each card
・Head Office Administrative Feature: Execute lump-sum payments to issued cards, support technical issues including magnetic strip malfunctions and returned cards.
・Data Aggregation Feature: View and export (in CSV format) daily and monthly data, sorted by registered groups or shops.
Status Page
Card holders can see their transaction history, balance and expiration dates on a PC or mobile phone.
Customer Support
Our call center provides support 24 hours a day, 365 days a year for technical issues with cards and terminals.
Valuecard Reader (VT-3000 Terminal)

VT-3000 Specifications
Dimensions: Length 165mm (6.5 in) x Width 115mm (4.5in) x Height 110mm (4.3 in)
Weight: 780g (1.72 lbs)
Power supply: 100ACV±10 50Hz/60Hz, 9DCV/2A
Features
・Built-in automatic paper roll cutter
・WiFi connection
・Credit card transaction feature (optional)
Recommended System Requirements
ADSL, optical fiber link (Protocol: TCP/IP, Internet VPN, etc.)
Valuecard Handy Reader(TM-P1000)

TM-P1000 Specifications
Dimensions: 36×80×170 mm(L×W×H)
Weight: 325 g
Power supply: Operation Charge 2 hours
DC12V±20%、It supplies electric power and charges from an AC/DC adaptor
Features
・Thermal printer 384dot/Line Rolled paper Wide:58mmφ:30mm
・Credit card transaction feature (optional)
Recommended System Requirements
3G Network Communication module:docomo、softbank Correspondence

The exclusive terminal set by needs can also be prepared.